Friday, 06 May 2011 00:00
All the old stuff from the genetics and makeup section has been published on the new download area and it's ready for donwload here: Genetics and Makeup.
Last Updated on Saturday, 13 August 2011 18:33
Sunday, 06 March 2011 15:03
We are glad to announce you another Koinup initiative with our partnership: Virtual Worlds Wallpapers!

If you like create artistic portraits in The Sims, why not transform them in IPhone/IPad wallpapers?
Metaverse Wallpapers is the new brand Koinup iPhone and iPad app that feature amazing wallpapers created within Virtual Worlds and Games. And the purpose of Virtual Worlds Wallpapers group is to seek new contents to dislay in the app.

If you're an artist or photographer and love the Koinup community, take part in this project and get your chance to enter the hall of fame of digital art. Read the rules of the project



Last Updated on Saturday, 13 August 2011 16:20
Tuesday, 18 January 2011 18:10
Are you ready to know who is the winner of Miss First of the year 2011 contest?? Here there are the first three classified of Sims 2 section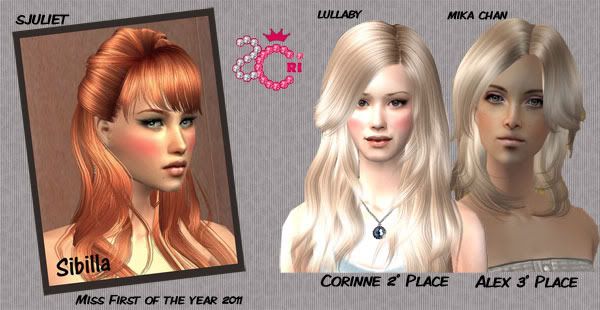 Third Place: Mika Chan - Alex Smith


Second place

: Lullaby - Corinne Zurli


First place

: sjuliet - Sibilla Finzi!

Congrats to all and see you at the next contest!
Sunday, 02 January 2011 18:15
6 new glamour and haute couture formal outfits by Bluesky for women!


Last Updated on Saturday, 13 August 2011 19:24
Friday, 31 December 2010 00:00
We have extended the endline for our contest, so you are in time to take part on them!

Show us your female sim made with sims2 or sims3 and try to win the title of Miss First of the Year
or
take part to "winter portrait" and make your winter themed shot, you can mash up sims2 and sims3, other virtual worlds, you can photomanipulate the picture as your wish..

We wait for your creation!
Last Updated on Thursday, 17 February 2011 18:22
Thursday, 02 December 2010 00:00
We haven't planning to make an Advent Calendar, you will find some updates during this month, but not a Christmas themed surprise everyday.

By the way, we would like to celebrate Winter and make you some gifts, so we are starting some initiatives...


Last Updated on Thursday, 17 February 2011 18:24
Monday, 08 November 2010 01:38
A special and so sexy posebox, with 6 pose poses, made by Jenie of MTSims in exclusive for Sims2Cri!
Last Updated on Saturday, 13 August 2011 19:24
<< Start < Prev 1

2

3 4 Next > End >>


Page 2 of 4